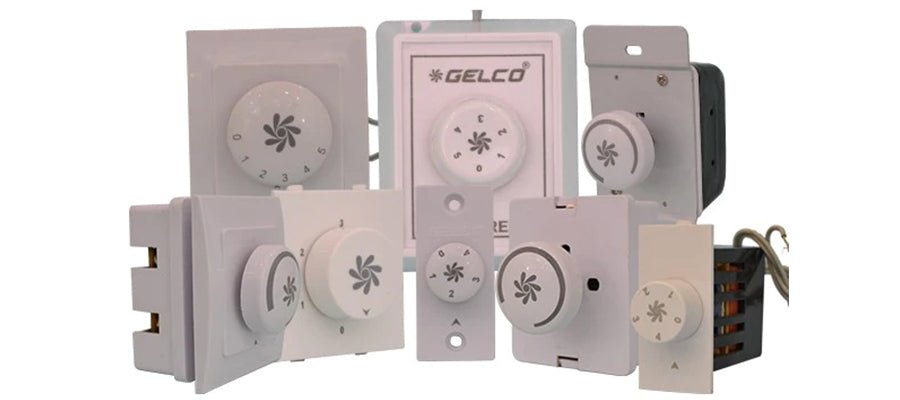 Gelco Fan Regulators: Your Efficient, Hum-Free, And Robust Solution
Ceiling fans are the unsung heroes of our homes, tirelessly providing comfort year-round. But did you know that you can enhance your fan's performance while saving electricity? Gelco Electronics introduces the FD 1000W and 2000W Fan Regulators, a smart addition to your home that not only optimizes fan speed but also conserves energy. In this review, we'll explore the advantages and technical prowess of these regulators that make them a must-have for every household.
 Advantages That Make a Difference:
Energy Savings: The FD 1000W and 2000W Fan Regulators are designed to help you save electricity without compromising on comfort. By controlling the speed of your ceiling fan, these regulators ensure that you only use the energy you need. During cooler seasons, you can lower the fan speed to maintain a gentle breeze without unnecessary power consumption. This thoughtful feature translates into noticeable savings on your electricity bills.
Hum-Free Operation: An annoying hum from the fan regulator can disrupt the peace and quiet of your living space. Gelco's Fan Regulators operate silently, ensuring that you enjoy a noise-free environment. Say goodbye to irritating background sounds and hello to tranquillity.
High Efficiency: These regulators are engineered for efficiency. They provide precise control over your fan's speed, allowing you to find the perfect setting for your comfort. Whether you prefer a gentle breeze or a stronger airflow, the FD 1000W and 2000W Fan Regulators offer smooth, responsive adjustments.
Robust Design: Gelco Electronics is renowned for crafting durable and long-lasting electronic products, and these fan regulators are no exception. With a robust design, they can withstand everyday wear and tear, ensuring reliable performance for years to come.
 Technical Specifications:
Input Supply: 230V, 50Hz
Capacity: Available in both 1000 Watt and 2000 Watt options
Weight: 0.17 kg
Dimensions: Length: 8 cm, Width: 6.5 cm, Height: 11.5 cm
 Conclusion:
Gelco's FD 1000W and 2000W Fan Regulators combine efficiency, silence, and durability to provide an ideal solution for optimizing your ceiling fan's performance. By saving electricity, ensuring hum-free operation, and offering high efficiency, these regulators elevate your comfort while being gentle on your wallet.
 Upgrade your fan's control system today with Gelco's Fan Regulators and experience the perfect balance of comfort and savings. With a 12-month warranty, a 10-day replacement policy, and the convenience of buying directly from the manufacturer, Gelco Electronics ensures your satisfaction. Plus, enjoy the added benefit of free shipping*. Make your home a more comfortable and efficient place with Gelco Fan Regulators.