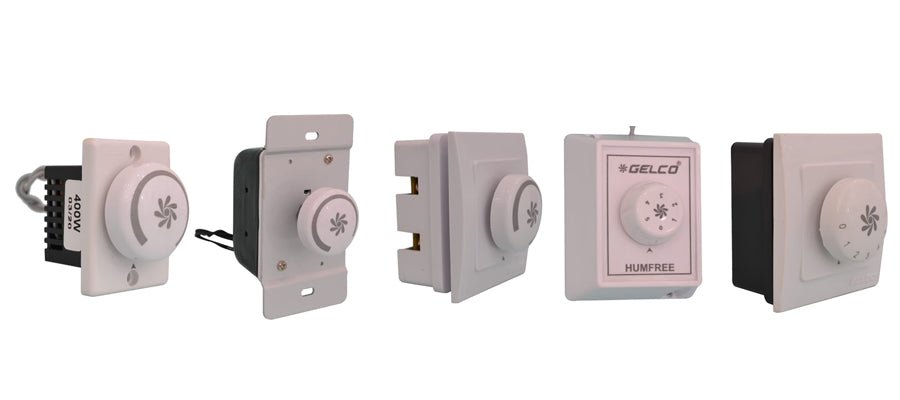 Types of Fan Regulators
Fan regulators are devices that help control or regulate the speed of fans. Installed with a circular knob, they directly control the speed with which the ceiling fan's motor rotates. Usually, they are a part of the switchboard or can also be installed as a separate device. Based on various factors, there are different types of regulators available in the market:
Resistive Regulator: The box-type regulator is most commonly found in households. It has different contact points as the speed positions to control the speed of the ceiling fan. Each contact point corresponds to a resistance value. By providing different taps on a wire wound resistor, the speed of the ceiling fan can be set. These regulators usually come in large sizes. They might be cost-effective, but at lower speeds, a considerable power loss makes them quite inefficient. Also, they consume more power than the other types of regulators.
Phase Angle-Controlled Regulator: Commonly known as Dimmer Switches, they employ semiconductor devices to adjust the voltage across the fan. Compared to resistive regulators, they are more efficient due to lower power consumption. However, there can be continuous speed control but lacks linear Speed control. Also, they are more expensive as compared to Resistive Regulators and make an annoying sound. Higher failure rate as active devices is susceptible to power.
Inductive Regulator: These have an inductive coil with various contact points to achieve the desired speed regulation. With the tapping on the winding of the transformer, the inductive reactance is varied to achieve variation in speed. But the biggest disadvantage is that like the resistive regulators, they also contribute to power loss. Also, they are costly, bulky, and lack aesthetic appeal. But unlike the other regulators, there is low heat power dissipation, which is its greatest advantage.
Capacitive Regulator: Commonly known as the Electronic Regulator use the capacitor to regulate the voltage across the fan. They are energy efficient with linear speed control and are one of the most reliable types of regulators of all the available types. Also, unlike the Phase angle-controlled Regulator, they do not make any annoying sounds. Usually, the Capacitive Regulator or the Electronic Regulator come in two variations - a) Movable Type Capacitive Regulator and b) Step Type Capacitive Regulator.
Other than the different types of fan regulators, there are also regulator-less ceiling fans that are fast gaining popularity in the market. These fans are controlled using a remote system. However, each has its own set of pros and cons and we suggest you carefully look into the various pros and cons before deciding the right type for your usage.